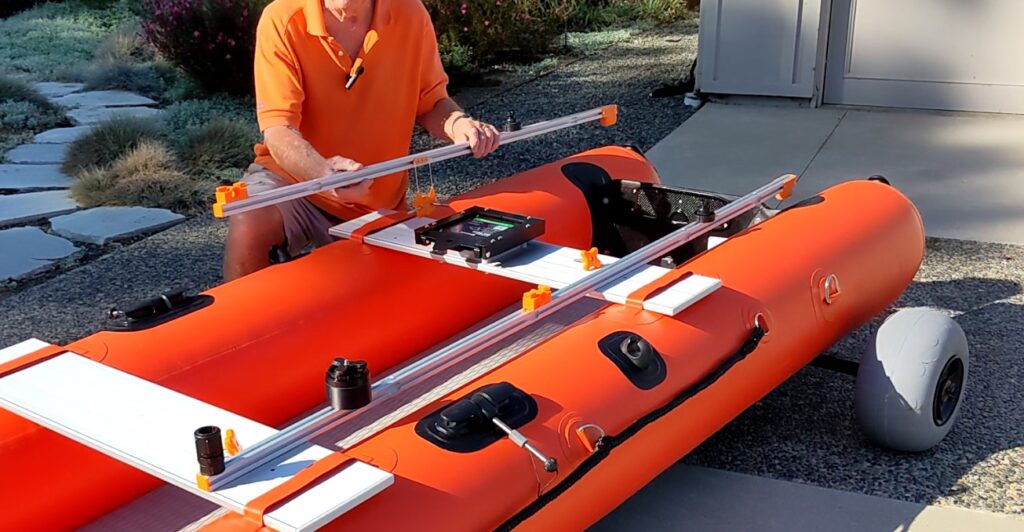 BixFish Tracks have been called a game changer for Scout boating. With their length, there is room to put accessories where you want them, and ample space for tools and other storage, keeping the floor of the boat open and clear.
Extending BixFish tracks to the transom provides excellent bracing and stabilization for a bass seat mounted on the rear Scout seat.
While the BixFish Track System was developed for Scout Inflatables boats, it can be applied to other inflatables. If you have a different type boat, email me and we can discuss.
Below you will find more info, pricing, and links to videos. Check out the Track Accessories section of this catalog for accessories I sell. The BixFish track system is also compatible with track accessories sold by companies such as YakAttack and Scotty.
If you bring your boat to me, in San Diego, I will install your track for free. For instruction on how to install a track yourself. see this YouTube video.
Pricing for Scout 365 or 430 boats. For other boats, contact me.
| | | | |
| --- | --- | --- | --- |
| SKU | DESCRIPTION | PRICE | NOTES |
| TR01 | Track Rear Seat to Middle Seat | $70 | |
| TR02 | Track Rear Seat to Front Seat | $90 | |
| TR03 | Track Transom to Rear Seat | $60 | (1) |
| TR04 | Track Transom to Middle Seat | $85 | |
| TR05 | Track Transom to Front Seat | $115 | (2) |
| BT01 | Accessory Bolt Carriage Bolt Style | $1 | (3) |
| BT02 | Accessory Bolt Brass | $2 | (4) |
(1) Extension beyond rear seat for TR03 is 16″ for Scout 365, and 20″ for Scout 430. Contact me if you want a different length forward of the rear seat 
(2) TR05, Transom to Front Seat, is too long to ship economically. It is available only for local pickup in San Diego
(3) Modified carriage bolt, Specify length 1-1/4″ (most common), 1″, 3/4″. Stainless steel.
(4) Solid brass, specify length 1-1/4″, 1″, 3/4″
BixFish Track Construction
BixFish tracks are fabricated from 1-inch square anodized aluminum extrusions. I then mill access slots at various places along the track to drop in accessory bolts used to attach accessories. Slots are milled for the Track Bolts, which go through the track to Track Nuts located under the seat. The Track Nuts are encased in plastic housings to prevent any part of the bolt from touching a pontoon. 
Track Bolts are attached by the user with string at the Retainer holes, so that the bolt won't get lost when the track is removed from the boat
The End Cap prevents the end corners from touching a pontoon.
Two track bolts are used. One goes in the most forward seat, and one in the most rearward. In the case of TR02 and TR05, an optional third bolt can be added for the middle seat. For tracks reaching the transom, there is no attachment to the transom – the track simply rests on the transom when someone is sitting on the rear seat. The tracks that reach the transom provide exceptional stabilization to a swivel seat that might be mounted on the rear bench.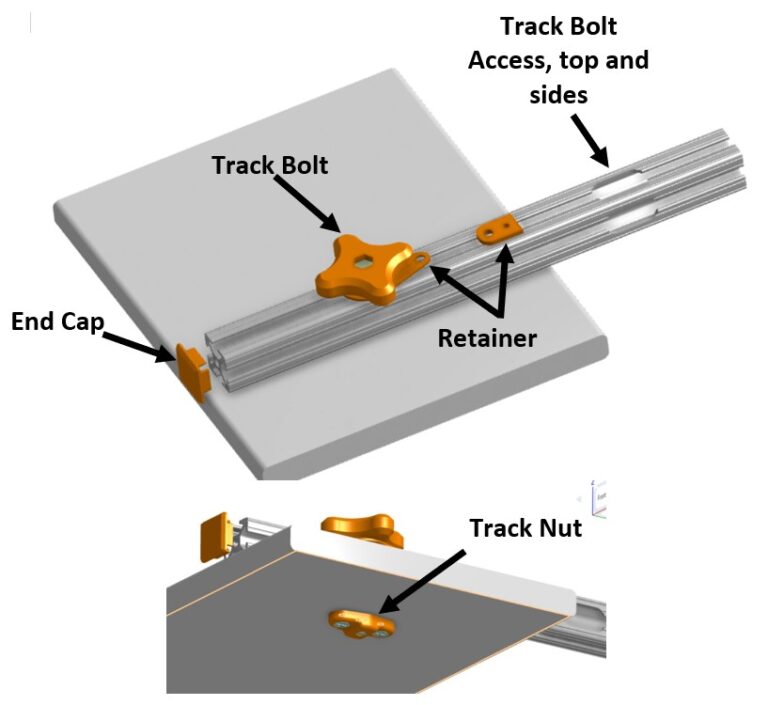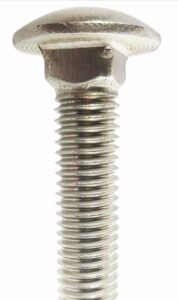 Accessory Bolt, Carriage Bolt Style
These are modified from stock stainless steel carriage bolts by filing the head and the square collar at the top of the thread, to fit the tracks. They are inexpensive, and can be harder to slide than the brass accessory bolts. Available in lengths of 1-1/4″, the most common length, 1″ and 3/4″.

Accessory Bolt, Solid Brass
Because of the flatter head, these move more easily in the track than the Carriage Bolt Style. They can be ordered in the same lengths: 1-1/4″, 1″ and 3/4″
Setting up your BixFish track when you go fishing can be done very quickly. This video demonstrates a loaded setup being done in less than 4 minutes.
A very complete package including a loaded track setup, done for a customer.
Detailed instructional video on how to install a BixFish track on your boat.
How to use Scotty, YakAttack, and other track accessories that mount with 1/4-20 threaded track bolts.