I offer two sizes of battery box. A smaller box will hold batteries up to 8ah capacity and provides two outputs. A larger box will hold batteries up to 15ah capacity and is supplied with three switched outlets. The larger box can also accommodate an optional 12v outlet, to run your electric air pump or other 12v accessory, and an optional dual-port USB outlet. You buy your own LiFePO4 or lead-acid battery to install in the box you choose.
The Small Battery Box can accommodate up to 8AH batteries, while the Large Battery Box can accept up to 16AH batteries. An 8AH battery is appropriate for a single major load, such as a BixFish bait tank or a fishfinder. The 16AH battery can handle two major loads (i.e., fishfinder and BixFish bait tank), as well as powering an optional 12v outlet for intermittent use, such as an air pump, and the optional USB outlet.
If you provide me with the cable(s) you intend to use with one of these boxes, I will install the mating connector(s) at no charge.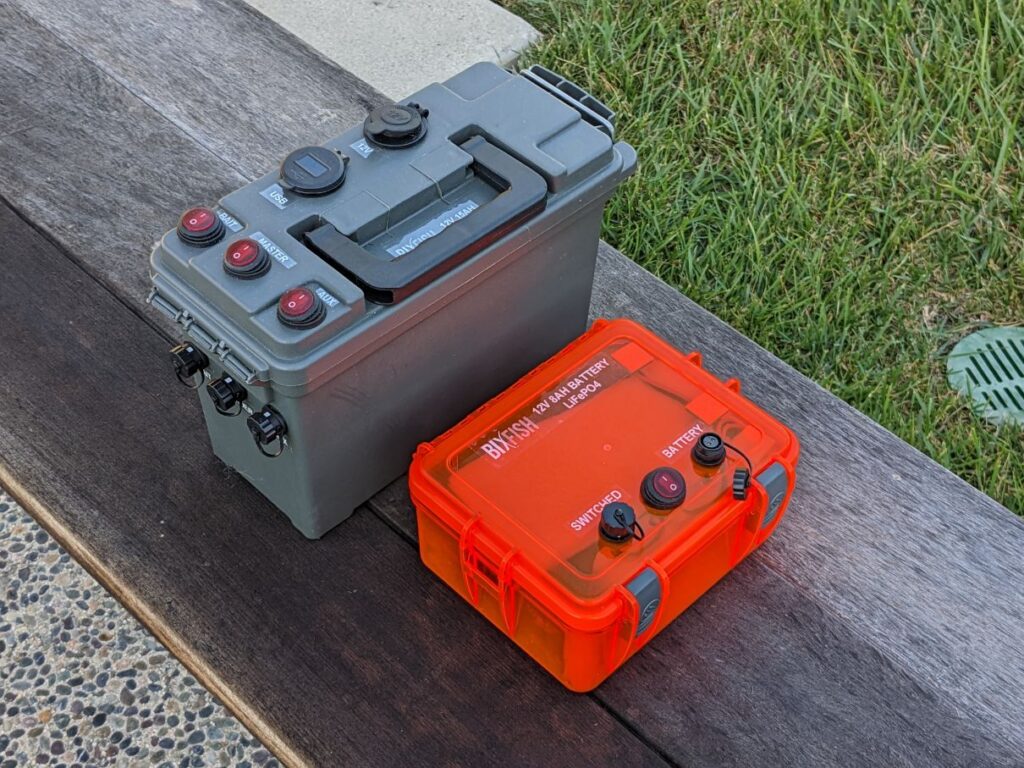 | | | | |
| --- | --- | --- | --- |
| SKU | DESCRIPTION | PRICE | NOTES |
| BA83 | Small Battery Box, without battery | $40 | |
The small box is truly waterproof, and conveniently holds 8AH or smaller SLA (lead-acid) or LiFePO4 12v batteries. It is supplied without a battery.
The maximum battery size that will fit in this box is 6-1/4″ x 4″ x 3-1/4″. Be sure to carefully check the dimensions of the battery you intend to use. Contact me for assistance in choosing a battery, or a charger.
The battery box comes with two outlets (one is switched, one is not), a lighted switch for the switched outlet, and mating connectors for the two outlets for you to use on your cables.
The box color may be orange as shown, or blue, depending on supply availablilty.
I assemble and wire these boxes to order, and they are easily customized. Contact me if you want something different.
Large Battery Box Pricing
| | | | |
| --- | --- | --- | --- |
| SKU | DESCRIPTION | PRICE | NOTES |
| BA90 | Wired box, without battery | $45 | |
| BA11 | Add 12 volt outlet to box | $15 | |
| BA12 | Add dual USB charging port to box | $20 | |
1he Large Battery Box is assembled in what is commonly called a 30-cal plastic ammo box. These boxes are splashproof, but not waterproof.  They are a good fit batteries up to 16AH capacity, while allowing extra room for more connectors and switches, an optional USB charging port and 12 volt outlet. Choose this box if you intend to install a battery larger than 8AH, or if you want the extra outlets and the optional 12v and USB outlets.
16AH capacity is sufficient for a 7″ fishfinder and for a BixFish bait tank for a long day. A third outlet is available for nav lights or any other desired use. Mating connectors are included.
Maximum battery dimensions are 7-1/2″ x 4-1/2″ x 3-13/16″. Contact me if you desire assistance in choosing a battery and/or charger to buy for use with this battery box.
The standard configuration has 3 outlets. All are controlled by a master switch. One is wired directly to that master, while there is an additional switch off the master for each of the other two outlets. Contact me if you want feature added or modified, as these boxes are built to order.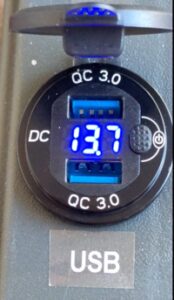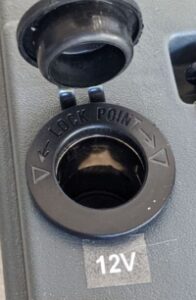 An optional USB Charging Port can be added to the Large Battery Box, allowing you to recharge your phone, or power one or two GoPro cameras. 
A 12v outlet can also be added, to supply power to accessories that use a car cigarette lighter type plug, such as your electic inflator.
Battery Accessories Pricing
| | | | |
| --- | --- | --- | --- |
| SKU | DESCRIPTION | PRICE | NOTES |
| BA21 | SD13 Mating (male) connector | $5 | |
| BA22 | SD13 Cable male/female connector set | $8 | |
| BA24 | Install connector on your cable | $14 | |
Connectors for the BixFish batteries are available. If you are buying a bait tank or transom pump, then the mating connector is supplied, and you don't need to buy one. And one mating connector is supplied for each output on a battery you buy. Note: The charge for BA24, installing a matingconnector on your cable, is waived if you are buying a battery box at the same time.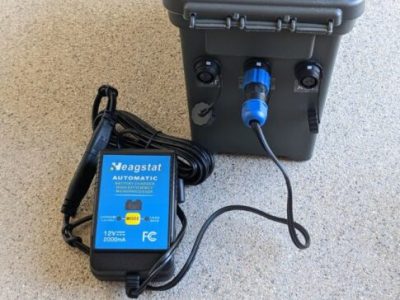 You will need to put a mating connector on a charger if you a charger elsewhere. Remember: the charger must specifcally match the battery chemistry: LiFePO4, or Lead-Acid. A charger for one of these is not appropriate for the other. 
I can help you pick a charger, ranging from $10 to $30, depending on your desires and needs. If you order the charger and have it shipped to me, I will install a mating connector on it for free if you are also buying a battery box at the same time, and then ship you the modified charger with your battery box.
I use fully waterproof SD13 connectors on BixFish battery products, rated for 2 amp continuous current. Wiring polarity is positive 12v to pin 1, and ground to pin2.  Instructions on how to wire this connector are shown in the video. With each battery box, I supply mating connectors for the outlets. If you are ordering a complete bait tank, or a transom pump, at the same time, I will wire the mating connector. Also, if you need a connector installed on your fishfinder or other item, I will wire the connector for you for free, if you are purchasing a battery at the same time. You will need to get the item to be modified to me in San Diego, by either shipping it or dropping it off locally.
As I make these batteries up to order, if you need something different in the way of connectors, don't hesitate to ask.
Note: the video refers to SD21 connectors. That's an error. I use SD13 connectors, not the larger SD21.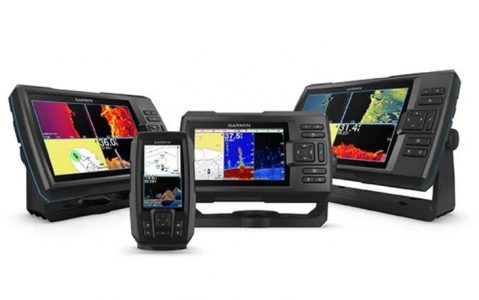 How long you can run on a full battery charge depends, of course, on the load on the battery. Unfortunately, it is sometimes difficult to find out what a given fishfinder, for example, actually needs.
The BixFish bait tank pump needs about 0.75amps, so an 8AH battery could be expected to power your tank for perhaps 10 hours (battery makers typically overstate battery capacity). 
A 4″ fishfinder such as the Garmin Striker 4 series consumes about 0.4A, while a 7″ Garmin Echomap might be more like 0.7-0.8 amps, while a typical 5″ finder will be somewhere in between. The best way to determine your current needs is to measure the current, often a difficult thing to do. 
When measuring the current for a fishfinder, make sure the sonar is actually, and the transducer is in water so it won't overheat and be damaged by running it in the air.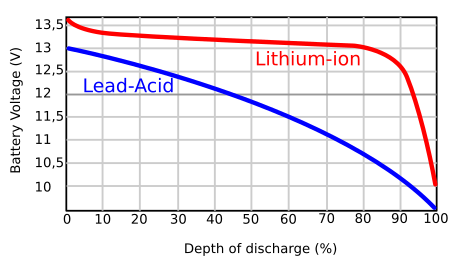 LiFePO4 batteries (pronounced Lithium Phospate) are superior to lead acid batteries, but cost significantly more.
Weight: Typically 1/3rd to 1/2 the weight of a siilarly rated lead acid battery.
Size: somewhat smaller. The cells are about 1/3rd to 1/2 the size of similar capacity lead acid cells, but manufactures often waste much of that size advantage when packaging the battery to a familiar form factor.
Over the discharge cycle, the Lithium Phospate battery will on average have about 12% higher output voltage, because it maintains its output voltage while the lead acid voltage falls significantly more during the cycle. That translates into about 12% higher energy stored in the battery compared with a siimilarly rated lead acid battery. That means your fishfinder, which is a "constant energy" consumer, not a constant current consumer, will run about 12% longer on a given charge. For fishfinders, current *decreases* as voltage *increases*.
For bait tanks, the opposite is true: as voltage decreases during the discharge, current also decreases. More significantly, the pump slows down as well. Thus, a Lithium Phosphate battery will give a much steadier flow of water to the bait over the discharge cycle than will a lead acid battery, keeping the water in the tank turning over at a good rate. 
Conclusion: you can probably get by on a less expensive lead acid battery, but you will get better bait tank results and longer operation from an LiFePO4 battery of the same amp-hour rating.