Other Products for Scout Boats
This section contains products designed specifically for the Scout 365 and Scout 430 boats. There are rod holders and a GoPro mount for the stabilizer bar. The Seat Riser is used to raise a swivel seat 1″, to clear BixFish tracks. An Oar Adapter that works with Scout Oar Extensions properly repositions the oar lower on the pontoon, necessary for the Horizontal Rod Rack. Lastly, there is a set of License Plates.
| | | |
| --- | --- | --- |
| SKU | DESCRIPTION | PRICE |
| SR01 | Stabilizer Bar Single Rod Holder, Plain Tube | $9 |
| SR02 | Stabilizer Bar Single Rod Holder, Slotted Tube | $15 |
| SR03 | Stabilizer Bar Dual Rod Holder, Plain Tubes | $15 |
| SR04 | Stabilizer Bar Dual Rod Holder, Slotted Tubes | $27 |
| SR10 | Stabilizer Bar Double Vertical Rod Holder, Plain Tubes | $15 |
| SB11 | Stabilizer Bar Double Vertical Rod Holder, Slotted Tubes | $27 |
| SB20 | Stabilizer Bar GoPro Mount | $42 |
| SR01 | Seat Riser, with Hardware | $26 |
| EX01 | Oar Extension Adapters, Scout 365 boat | $23 |
| EX02 | Oar Extension Adapters, Scout 430 boat | $23 |
| LP01 | License Plates | $25 |
Stabilizer Bar Rod Holders
The Single and Dual Stabilizer Bar Rod Holders provide inexpensive and convenient storage for rods, a net, even a gaff. They are easy to attach, and can remain permanently on the stabilizer bar, reducing setup/takedown time. While they can be used for trolling with  light tackle and a light drag setting, the stabilizer bar itself is not the best anchor for a trolling rod. For heavier duty trolling, use a rod holder from YakAttack or Scotty on a BixFish track, or rod holders affixed to the transom.
Note that the single and double stabilizer bar rod holders place the rod parallel to the stabilizer bar at the point of attachment, typically leaning back, and angled inward. As a result, long rods such as fly rods can cross at the tip end.
The Double Vertical Stabilizer Bar Rod Holder positions rods more vertically. They still lean back at the stabilizer bar angle, but the rods are parallel, not angled towards each other. This is a better configuration for long rods and for light-duty trolling. They are a bit more difficult to install the first time (see installation videos below), and can be left permanently on the stabilizer bar.
For rod tubes in these holders, you have the choice of a plain or slotted tube. The slotted tube is required for fly rods, and is more convenient for other types of rods.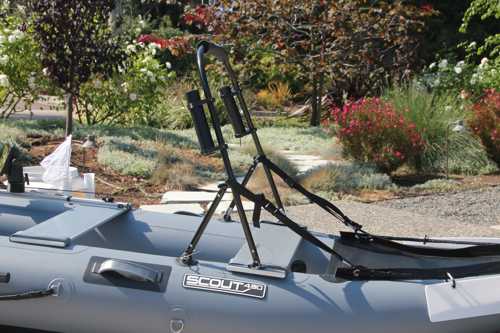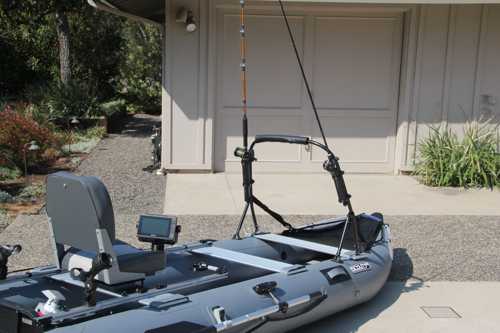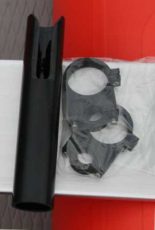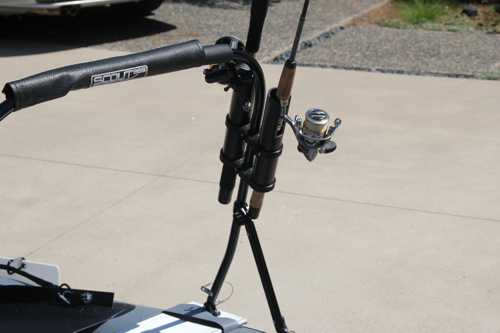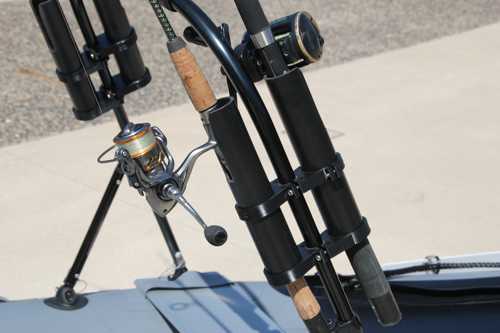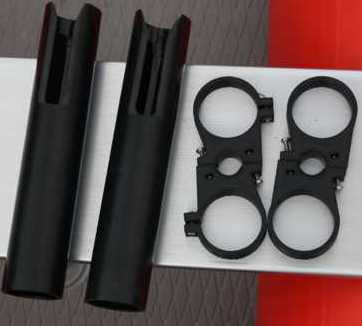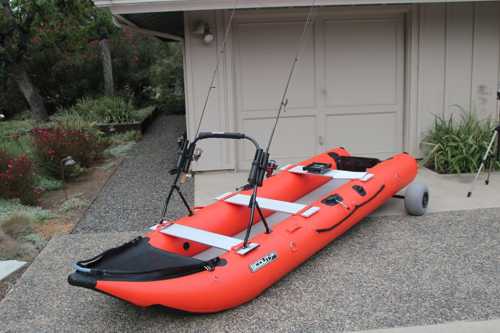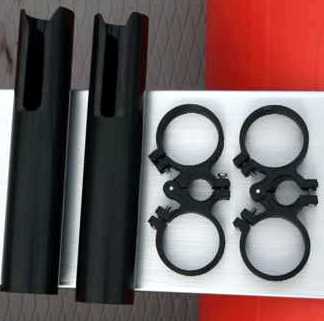 Stabilizer Bar GoPro Mount
The Stabilizer Bar GoPro Mount consists of a clamp, two different lengths of camera tube with ball-end fittings, and one dual-ball GoPro swivel. The camera tube is easily removed from the stabilizer bar clamp, to allow selfie or underwater shots. When on the clamp the tube can be raised/lowered and swung, to put the camera in any position desired. I use this with a USB Power Pack to power the GoPro all day, so it can respond to voice commands: "GoPro start recording!" (but be aware the GoPro is not waterproof when the USB door is open on the GoPro).
The clamp can be attached to any horizontal or vertical section of the stabilizer bar. The camera tubes and double-ball swivel are the same as used in the BixFish Track GoPro Adapter accessory.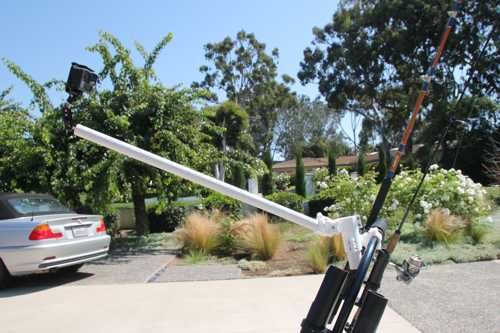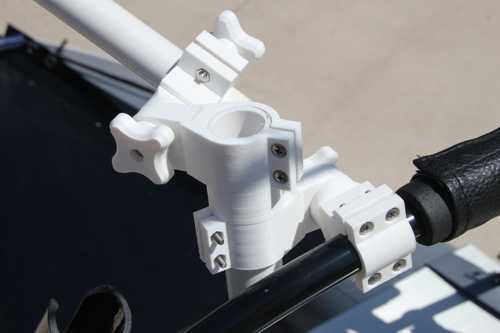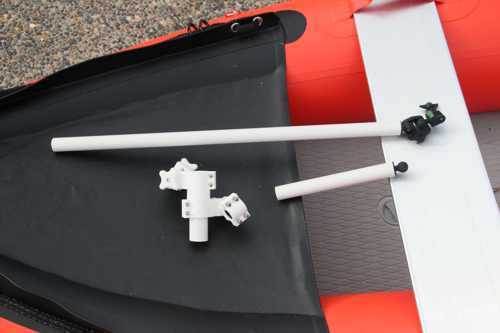 Stabilizer Strap Kits and Toggle Buckles
Stabilizer Strap Kits and Toggle Buckles provide a very convenient way to secure your stabilizer bar and anchor it firmly to your boat. A Kit consists of a toggle buckle, attached 3/4″ webbing, and a tri-glide slider. A Toggle Buckle sonsists of a toggle buckle and two tri-glide sliders, but without webbing. The Toggle Buckles are offered in case you prefer to supply your own webbing. Toggle buckles come attached to an anchor for use with a BixFish stabilizer bar rod holder or for attachment directly to the stabilizer bar.  See the video for information on using and installing these products.
The Seat Riser is used with an Attwood 11602D1  6-1/4″ Quick Seat Disconnect, to raise a swivel seat one inch. It's required if installing a BixFish track, and you have the seat offset from center towards the track. In this case, without the riser, the seat can hit the track or the track bolt. This riser might not be necessary for some seats, but for the typical low-back swivel seat, it is. The companion swivel plate is Attwood 17720 6-1/4″ Seat Swivel.
The Seat Riser is supplied with a mounting hardware kit, with 4 3″ stainless steel 1/4-20 flat head screws, 4 stainless steel fender washers, and 4 stainless steel locking nuts. A 7/16″ wrench and a #2 or #3 phillips screwdriver.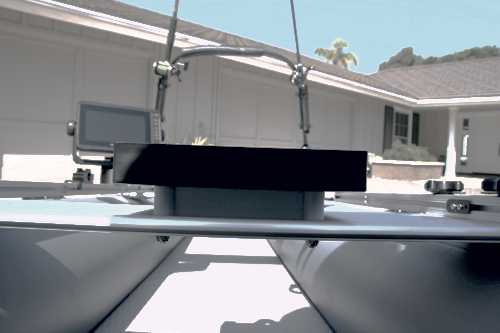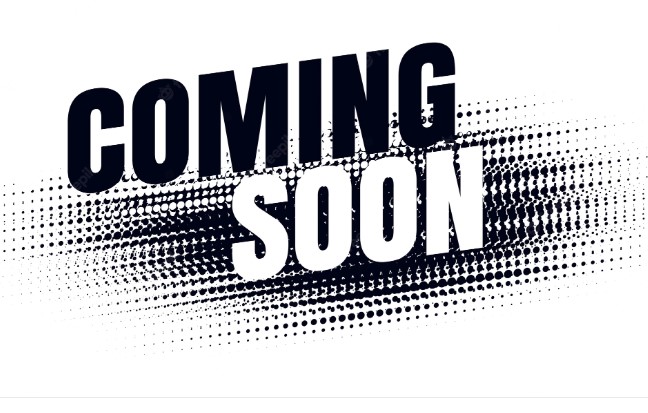 When using the Oarlock Extensions on a Scout, the oar is raised at the stern to where the paddle is higher than the pontoon, an annoying position. These adapters quickly clip onto the oars, to lower them to a position parallel to the water. This is nice to do, and becomes essential if you have the BixFish horizontal rod rack system.
The Oar Extension Adapters are suitable for other inflatables as well, such as boats from Bris and Saturn. Contact me for more information.
Watch the video for a demonstration and info on how to install.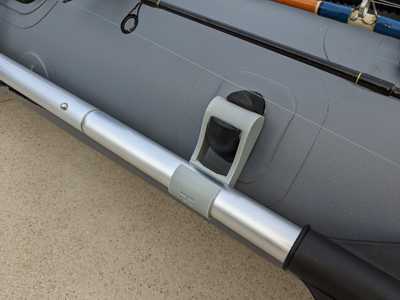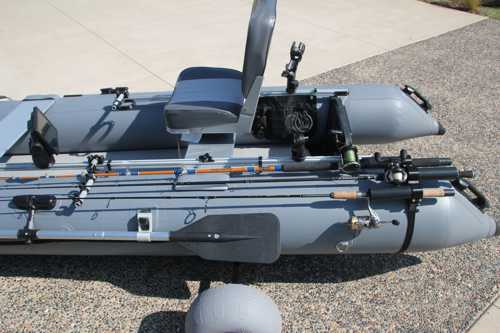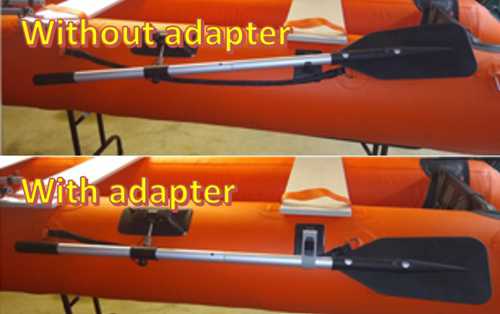 Custom license plate holders for your Scout, made from 1/8″ white HDPE of acrylic sheets. Four aluminum carabiners are included to make it quick and easy to attach and remove from your boat. Also included is a bungee cord with hooks to connect the fronts of the plates with a cord under the bow, to prevent the plates from flipping up in the wind, a common problem with Scout license plates. One set contains two license plates, 4 aluminum carabiners, and a bungee cord with clips. The registration numbers are not included.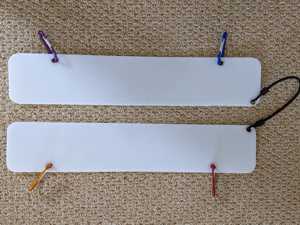 The plate is 24" x 4-3/4", and will accommodate the 3" registration number height required by most states, including California. If you use only one state registration sticker, then your registration numbers can be 19″ wide. If an additional state sticker is required, such as the California Mussel Sticker,, then the registration numbers should be 16″ wide.  I purchased these registration numbers on ebay and found them very easy to apply.. Although the listing states 19″, this seller will do any specified width from 16″ to 19″ – just send him a message for the width you want when ordering..
Note: use of these plates does not meet USCG regulations, which require that registration numbers and stickers be permanently applied to a boat.